Erat
Jul 12, 2014 10:08:38 GMT -8
Post by Torchman on Jul 12, 2014 10:08:38 GMT -8
|Navi & RP Information|
Approved (Warrior || 7/12/14)
-
Navi Name
: Erat
--
Appearance
: Erat is a mighty navi, standing at 7' and is well built. His armour is coloured pure crimson red, with the various decorations on the armour coloured black. His clothes underneath the armour are black in addition to the cape bellowing behind him. His helmet is unique in that it begins at his chin, runs up the sides of his head, and ends in two large horns, essentially forming a giant U. His face usually has a serious look upon it, and his white hair is grown out to his shoulders.
His axe, which he always either in his hands or within reach, follows the same color scheme of his armor, being manly red with black highlights. It's also interesting to note that unlike most axes, it has a large square handguard, and is almost as large as Erat. Should the axe ever leave his hand, it will vanish, returning to him when he calls for it next.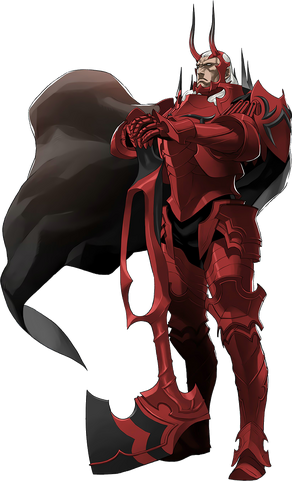 Faceclaim: Walhart from Fire Emblem Awakening
--
Personality
: On the outside, Erat is quite the intimidating figure. He holds himself in such a way he emits an aura of power and can be quite intimidating. He is stern and serious, his deep voice often carrying this tone regardless of the situation. He approaches each situation using logic and battle instinct honed over years of combat. While he is quite brutal in battle, he actually has no desire for actual fighting; only fighting when himself or others are in danger with few exceptions. However, underneath, the seeds of doubt exist. As a navi of war existing in a new more peaceful time, he has begun to question his very role in this new world, and whether or not he even belongs.
--
Background
: Erat is an old navi, one of the oldest still active today. Many years ago, he was once the leader of a group of mercenaries who were highly sought after. If there was a major conflict or major bounty to be had, they were the first ones to be hired. Erat's strength, courage, determination, and skills with his axe were known, and feared, by many. However, after one particularly nasty day of fighting, Erat was forced to go into hibernation mode in order to heal and repair... and didn't reactivate.
Many years later, Erat finally rebooted. But time had done its damage. His comrades were long gone. Viruses had damaged him and his weapon systems while he slept, his armour being the only thing protecting him from being deleted in his sleep. He was forgotten from the pages of history and minds of the people, his own past forgotten in his sleep as well. However, Erat was now a navi displaced in time, a war navi existing in a more peaceful time. As he learned more and more of this 'new' net, he began to ask one question... What was his role in this new world? Did he even belong here now?
-
Version / Experience
:
--
Version
: 1
--
Experience
: 725
-
Funds
:
--
Zenny
: 17450
--
Bugfrags
: 0
|Statistical Information|
-
Type
: Attack
--Effects: +10 starting Damage to all attacks
• +5 Damage at every Version-up
• +10 added Damage per Version to active Damage+ Skills (+5 to Passive Damage+ Skills)
• An Unavoidable attack
• Aiming Skills add an additional omni-aimer to the affected attack in addition to other effects.
• +1 use to Attack Slot skills
-
Karma
: 50
-Hyper Mode Acquired
-2 Dark chips usable per battle
-
Elements
: Lvl 2 Break, Lvl 1 Blade
Break Lv2: Damage cannot be reduced below 10%. +20 Break Damage.

Blade Lv1: Counters can ignore "Cannot be Countered" (Once per Turn).
--
Net Strengths
: Blade, Metal, Stone, Ice, Laser, Wood, Toxic
--
Net Weaknesses
: Elec, Sonic, Sand, Bug, Sniper, Fire, Plasma
-
HP
: 1000
-
Armor
: 10
-
Regeneration
: 0
-
Natural Avoid
: (Select: Shield) // 5 Turn CD
-
Base Damage
: 110
-
Attack Slots
: 2
|Skills|
Conqueror's Armour
Defense Skill
Erat's armour protects him from attacks.
Erat is given +10 Armour x version.
Passive.
Conqueror's Limit Assault
Speed Skill
Erat pushes his body harder than normal, allowing him to attack more frequently for a short period.
Erat is given +1 attack slot for 2 turns.
3 uses.
Nanomachines Son
Support Skill
Erat's armour contains a device that heals some of his wounds. How? Nanomachines son.
Erat recovers 100 HP.
3 Uses.
Conqueror's Resolve
Defensive
Erat shrugs off a status effect afflicting him, allowing him to continue his assault.
Erat removes one status from himself.
3 uses
|Attacks|
-
Max Cooldown
: 5/10
And My Axe!
C, Blade
Erat takes a swing at his target with his mighty axe.
110 Damage
And My Axe From Afar!
S, Blade
Erat throws his axe, overhand, at his target with great strength because axes are totally legitimate projectiles.
100 Damage, Unavoidable
1 turn Cooldown
Axe Rain
S, Break
Erat builds up energy for a turn and then slams his axe, head first, into the ground. From above, multiple axes fall down, each one aimed at an individual target, their size making them very difficult to dodge.
210, Hits All, 1 turn mandatory charge
1 Cooldown
These Guns
S, Break
Erat slams his fist into the ground, causing a series of blades to emerge from the ground, traveling at his target.
120, Ignores Armour
1 Cooldown
Unintended Use
S, Blade
Erat grabs the staff of his axe and hurls it like a spear at his target. The force behind the throw is so great it is capable of breaking and ignoring defenses the target uses.
120, Breaks Shields, Cuts Auras
2 Cooldown
|Advanced Features|
Hyper Form
Conqueror's True Strength
Erat's armour lets off a red aura as his true strength is unleashed, enhancing his strength and his speed.
+50 damage to all attacks
+1 attack slot
Lasts 3 turns