Post by Zane on Apr 27, 2021 0:36:48 GMT -8
As was announced, their way to the throne room from the third floor was completely clear. And what would be found at the height of the ascension would be the Great Being as well as the others who should be here.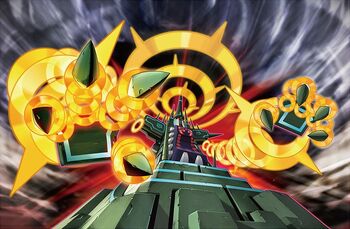 Except there was a clear difference in the sight of the great majestic being. There was a large hole where the Murian Crest would be emblazoned, instead the hue of the numerous rings on its fingers, arms, and the halos having a purple hue. Rosso was in a more obvious position in the room, on the ground and off to the side as he cast a glance toward them before he stepped back and faded from view, not standing in the way of what they would be fighting here. Immortalis was a tougher one to spot, but one look at the Great Being closely and it wasn't hard to locate him resting on top of the grand halo on top of the Murian Deity, seated with one leg resting on it and the other dangling over the edge lazily, a hand resting on his chin. He tapped his foot against the halo a couple of times before he too would vanish from view as the wave world about them began to shake, signifying what was about to begin as Rosso would chime in just one last time before it would begin.
"She's in the way. Once you're done and the show is over, you can have the battle you truly want."
---
[Power Body] – Gamma Wave
The ultimate frame to house a being of great prowess, that no force may penetrate it.
-- Total, unpierceable immunity to all status effects/reductions.
-- Total, unpierceable immunity to avoidance disruption and charge interruption.
[True Bulwark] – Gamma Wave
A durability and strength that surpasses all harm and detriment.
-- +100% Maximum Health.
-- +50% Damage Mitigation. Applied before all other mitigations, and cannot be pierced.
-- All other mitigations apply at 25% regardless of all sources.
[Perfect Creation] – Unique Gamma Wave
The power from which all divinity flows; the power to create and make reality as one wishes.
-- Your created entities are immune to Destroys effects, and can obtain up to two benefits without increasing in tier or decreasing health. Your created entities cannot be controlled by any other entity. You may always control multiple of the same unique entity.
[The Murian Power Wave]
The Murian Soldier's Power Wave enables it an indomitable strength and fortitude: The fortitude of mountains, and the force to shatter them.
-- The user's Damage, Armor, and Health increase by 75%.
-- The user's damage mitigation cannot be turned off or ignored by any effect. The user's ability to augment attacks cannot be hindered by any effect.
-- User's Armor applies at 25% efficiency against all effects, regardless of ignoring, unavoidable, or bypassing effects. If an attack is reduced to 0 Damage, it has no effect on the user.
[The Murian Mind Wave]
The Murian Tactician's Mind Wave enables it with the ability to merge living shadow with imagery, pulling on the delicate strings within the minds of those it haunts to make their greatest fears and potentially even their wildest dreams a reality.
-- Once every two turns, an avoidance of choice can be used for free. This avoidance avoids four attacks, counts for all required avoidances of those attacks, and can be used to avoid an attack that it otherwise could not avoid.
-- The user may create Figments. Figments are either status effects or summons without health and one attack slot, but can be directed to attack by expending multiple attack slots (if they attack). Figments come in a myriad of forms. Effects generated by Figments can only be circumvented by active sources – active healing to heal damage, active avoidances, active mitigations, etc; but all active sources are twice as effective against them. Figments can only be interacted with by the target that it was created for.
--- Lone Figment: The target becomes Isolated, unable to benefit from any effects generated by allies or reliant on them. An ally that spends a full action of combat can allow Isolated targets to benefit from effects generated by or reliant on their specific effects; each ally needs to do this individually.
--- Allied Figment: The target gains a bonded ally. This ally must be protected, and can always be intercepted for – any damage dealt to the figment is unavoidably dealt to the target. This figment dissipates at the end of any turn it takes damage. Can also force the target to defend an enemy, instead.
--- Enemy Figment: The target gains a forced enemy. This enemy must be defeated – no other enemies can be targeted while such a figment exists. Its attacks deal 20% of the target's maximum health, but can be charged to benefit from charge multipliers. It must be dealt 40% of the target's maximum health in damage to be defeated. Can also force an ally to attack the target for half of its attacks the next turn, instead.
--- Attack Figment: The user replicates the effects of a single attack in any combatant's arsenal against the target.
--- 8 Uses/Battle. Used for free on first turn, for all enemies. All subsequent uses require the user to sacrifice their offensive turn
[The Murian Adaptor Wave]
The Murian Lookout's Adaptor Wave enables it to take advantage of any terrain type, making it the ultimate combatant as it can take advantage from the skies above and the ground below.
-- User always gains positive benefits from panels, and benefits from all panel effects twice as much.
-- The user can maintain one set of panel effects even after the panels have been changed, regardless of original panel duration. These panel effects only positively affect the user while stored in this way, allowing the user to positively benefit from up to three types of panels at once.
-- If the Panels are Normal: +3 Attack Slots, +300 Damage, +200 Armor.
[The Murian Void Wave]
The ability to breach into the unknown, to break into the Undimension, grants its wielder unprecedented power within its borders. Even when beyond its exceeding void, the user can pull forth its mysteries to their aid.
-- User ignores all negative panel effects.
-- Within the Undimension, the user's avoidance skills gain +6 avoidances. Passive skills are instead 75% stronger. Within the Undimension, all panel types positively affect the user twice as much.
-- By dropping an attack's charges, user may perform any of the following, dependent on the number of charges dropped. When avoiding attacks that were charged, user may choose to substitute their charge for this effect. Can be used at any time.
--- 1 Charge: Release an unaimed attack that inflicts 30% of any target's max health as unmitigatable damage. Minimum 1-CD between uses.
--- 2 Charges: Remove a single summoned entity from the battle or unlock the current panels.
--- 3 Charges: Redirect two attacks back at its user. Alternatively, unavoidably remove any summoned entity from the battlefield.
--- 4 Charges: Change the panels to any panel type.
--- 5 Charges: Merge the battlefield into the Undimension for one turn. 1-CD between uses.
[The Murian Command Wave]
The Murian Servant sets its will of the environment into motion, forcing the world into its own needs, or commanding it to stay in place despite all things.
-- Any time the panels would revert to Normal, instead revert them to a panel type of your choice, with the same duration. While these panels are active, you may merge other panels with them to combine their effects. Panel type chosen upon creation. Holy Panels selected.
-- Lock the panels into place for 2 turns. Alternatively, unlock the current panels. Alternatively, recreates a previously active set of panels. Can be used for free every other turn. Alternatively, can be used at will by expending a skill use.
-- Give a summoned entity an Undershirt against the next 2 turns of attacks. Alternatively, recreate a previously active summoned entity with 50% more health. Can be used for free every 2 turns. Alternatively, can be used at will by expending a skill use.
--- 8 Uses/Battle
[Saurian Rock – Dinosaur's Strength]
The unique strength of the Saurian Tribe, infused into its creator through reabsorbing its incredible power.
-- Le Mu is immune to Charge Interruption and Damage Reductions.
-- Le Mu's Fire-Element Attacks benefit from all Base Damage Calculation increases by 100% more.
-- All optionally charged attacks gain the benefit of their charge multipliers three times.
[Leviathan Spear – Serpent's Flow]
The unique technique of the Leviathan Tribe, infused into its creator through reabsorbing its incredible power.
-- Le Mu always counters in spite of all opposing effects. Counters deal 50% more damage.
-- Le Mu's Multi-Hit Aqua-element Attacks benefit from an additional +20% Base Damage Calculation applied to all hits.
-- Optionally Charged Attacks can be expended to use the effect of any other attack within the past three turns charged for the same number of turns or fewer.
[Berserker Sword – Knight's Fury]
The unique ferocity of the Berserker Tribe, infused into its creator through reabsorbing its incredible power.
-- Le Mu's attacks with Avoided Separately gain +2 Hits at Full Damage. Multi-Target attack effects do not add Cooldown.
-- Le Mu's Elec-Element Attacks benefit from all Base Damage Calculations increases by 20% more, added to all hits.
-- Optionally Charged Attacks can be chained together in a single attack slot, all effects of the attacks responded to separately and all hits as avoided separately.
[Shinobi Star – Shadow's Advance]
The unique subtlety of the Shinobi Tribe, infused into its creator through reabsorbing its incredible power.
-- Le Mu's avoidances can be expended together to stack their total number of avoidances and avoidance types. Le Mu can negate attacks by using attacks with equal or higher damage.
-- Le Mu's Wood-Element Attacks benefit from all Base Damage Calculation increases by 20% more, released as an auto-attack after each attack.
-- Optionally Charged Attacks gain 1 Aimer per avoidance used while they were charging. If charged for four or more turns, these attacks can have up to three aimers.
[Murian Genesis]
The power from which all divinity flows, the Murian people learned all that they knew, including the ability to live beyond their years, from the language the Great Being shared with them. Hers is the might of all their conquests. Hers is a power unsurpassed by any across ages.
-- Except by other entities with this skill, effects from the user's attacks cannot be copied or imbued. Skills copied from the user are always graded one tier higher for uses and scaling, and lose any custom properties.
-- The user's effects that scale based on Version are 100% more potent.
[Ancient Form]
Le Mu stands at the apex of the great continent, and stands paramount to the wear of time and passing of centuries.
-- Le Mu has +17,500 Max-HP and +1,750 Armor. Le Mu is immune to any effect that inflicts damage based off of Max-Hp, and any effect that would prevent it from restoring HP, regardless of any sources.
[Divine Defense]
A powerful, unyielding metallic shell coats the front of the statue that takes up Le Mu's form, making it impossible to harm until it has been broken through.
-- Le Mu has an HP Buffer equal to his maximum health. This HP Buffer cannot be harmed by attacks dealing 400 Damage or less.
-- This HP Buffer is not subject to regeneration, armor, or any healing effect, but passively power blocks all attacks.
-- While in effect, Le Mu cannot avoid attacks, but cannot be harmed individually from the HP Buffer.
[Divine Pressure]
The force Le Mu exerts makes all attempts to rise against it seem futile and pointless.
-- All S-Tier Attacks and Skills require an additional use to use. Attacks with Cooldown gain 1-Turn of required charge. Attacks with Charge gain a number of uses per battle equal to 10 – their total number of charges. Expending all uses of any one avoidance or defensive-based skill allows a user to ignore this skill.
-- Le Mu's Base Damage Calculation increases also apply as percentile Damage Increases.
[Rites of Creation]
The creator of EM Waves holds within its might the strength to remodel the world, even if that world is largely unseen. It stands paramount against all other forces beneath it.
-- Nullifies all opposing elemental benefits, including those of Divine Elements.
-- Le Mu has 5 Elemental Levels in each of Elec, Aqua, Fire, Wood, and Normal.
-- Has no effect on Non-Spatial Hidden Elements.
[Wave Suppression]
Entities standing before the god of EM Waves attempting to wield its power will find that it is not a benevolent provider. Given time, it can pull away the waves keeping them together, leaving them wounded and vulnerable.
-- Against Wave-Based Beings, and navis owning story items that grant them powers involving Waves, Le Mu's attacks deal an additional 10% of their maximum health as non-reducible, unhealable damage.
-- Entities affected by this that are reduced to 30% of their max health or less are immediately defeated, removed from the fight.
[Wave Generation]
The expansive power of the god of EM Waves can expand the horizons of the Wave World and those that reside within it.
-- Le Mu Regenerates 8% of its maximum health each time it uses a Normal-Element Attack. This can occur up to 5 times per turn. Le Mu does not otherwise regenerate.
-- All Wave-Based Beings, or beings with story items granting them powers involving Waves, restore 2% of their maximum health each time they use an attack with their primary element. This can occur up to 5 times per turn.
[LeMuXa HP=300,000/300,000]