Caliga
Oct 1, 2014 20:08:38 GMT -8
Post by Raven8 on Oct 1, 2014 20:08:38 GMT -8
Caliga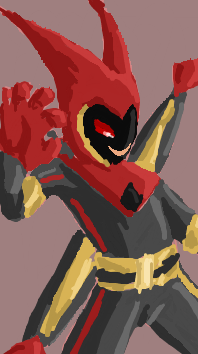 NPC Level: Boss
Long ago, a Navi of dark renown sought to revive the legendary program of darkness, Nebula Gray. Gathering together the necessary arrangements, the ritual was underway and the dark lord was soon to be revived. However, another Navi had other plans. Tossing a marionette controller into the mix, he glitched the revival, causing something far different to be born; Caliga.
Caliga is a harlequin puppeteer Navi who primarily wears a black and blood-red, form-fitting suit similar to that of a clown. He wears a typical jester's hat and has a black mask that seems to actually be a part of his face, as his eyes and mouth appear to meld with it with every movement. Affixed to his back is a massive controller, the same one that corrupted the summoning of Nebula Gray. At each end of this controller is a red diamond, used as a means to control opponents in battle. Orbiting his body are a total of four "diamonds". Two are black, and two are red. Each pair has a unique offensive and defensive function, and are primarily used for the sake of countering opponent attacks or farther binding them to Caliga's will. Caliga's presence is often accompanied by a thick, black mist that covers the ground entirely and hides his cords from sight until they are prepared to attach to their target.
Caliga's primary offensive weapons are his "cords"; a set of black, rope-like chains that adhere to a Navi's body and merge with his/her data. This gives Caliga a point on the Navi's body that he can then control and use to do his bidding. If enough cords attach to a Navi, then there is no hope of escaping Caliga's sardonic whim.
Special NPC Abilities:
Caliga does not directly attack in general. Instead, he tends to take control of his opponents via his black cords, and/or place a Navi in a nightmare scenario to face his dreadful powers more directly. Both of these methods of offense can leave a Navi with long-term, if not permanent, damage both physically and mentally.
Caliga, being a glitched attempt at reviving Nebula Grey, has nearly unparalleled mastery over all forms of darkness. As such, Navis of dark karmatic alignment are especially vulnerable to his control, and are highly ineffective both offensively and defensively when facing the Black Diamond's power.