Post by Mega on Jul 29, 2021 15:44:24 GMT -8
V3 Approved on 1/13/2023 | by Wackoguy |
|Navi & RP Information|
-
Navi Name
: Showman.Exe
--
Appearance
: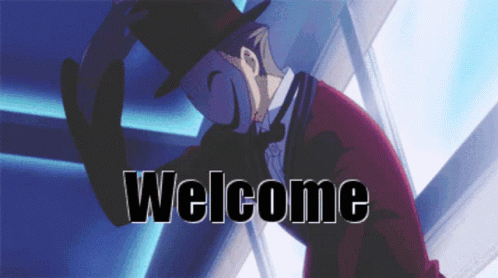 Showman is... more or less a dapper looking figure of unknown "European" descent. Other than his sharp dress, his face is never seen- as it is clearly behind a simple white mask that is unusually similar to the masks worn by certain diminutive beings known as, "Steves." The obvious difference is that his mask has line shaped features instead of holes leading into the dark abyss. He is a tall and lanky man, standing alittle over 6ft tall, and is also seldom seen without his top hat and cane/staff which appears to be some kind of microphone-like object. However, it is legally distinct from one for reasons that shall be explained!
--
Personality
: Showman as his name implies, LOVES putting on a good show. He is a charismatic and intelligent man who has a very strange view on the world around him- and of people. He more or less takes the phrase "The World Is A Stage" to an almost literal level, and to this effect sees everyone else as potential actors and cast. Showman also displays a degree of civility long lost in modern society, and remains polite when dealing with others. One can compare his general speaking tone to that of a used car salesman, or a gameshow host. To go along with this, he is also a giant ham and likes to act melodramatically for effect, and secretly views as everyone else as being beneath him. One interesting quirk is that deep down, he secretly loathes most of everything to do with the modern age... which is an unusual "design" choice.
--
Background
: The Big Boss that has been foreshadowed for a number of Steve Apps... IS FINALLY HERE! Yes that's right sir and or madam! This weirdo that no one has heard of is the guy the little Steves obey! Also in spite of the Command and Steve's efforts to do otherwise, even the United Steve Army Troupers heed his commands. He is just as mysterious and enigmatic as his little Steve minions; no one knows where he comes from or who even designed him. He just SHOWED up~
Being one of the non-Steve designs made at Mirage, it is believed Showman was actually originally intended to be the company's mascot before it went belly up. But that's an unimportant foot note that Showman has put behind him!
-
Version / Experience
:
--
Version
: 3
--
Experience
: 675
-
Funds
:
--
Zenny
: 750
--
Bugfrags
: 0
--
Allowances
: 1
|Statistical Information|
-
Type
: Resource
° +1 element level.
° +1 accessory, Crest, and Program slots.
° +10% zenny from all sources, +10% more every new type bonus acquired by version
-
Karma
: Neutral
-
Elements
: Light 5
Adaptor: Toxic
Poison: For 3 turns, the afflicted Navi takes 5% of their Max-Health as unavoidable damage and has -1 Attack Slot. Once ended, a Navi cannot be Poisoned for 2 turns.
Passive Effect: User is immune to Poison.
Enemies take 200 Unavoidable Damage per turn.
- This Unavoidable Damage will also reduce enemies' Max HP.
--
Net Strengths
: Break, Laser, Fire, Sonic, Light
--
Net Weaknesses
: Plasma, Dark, Shadow, Toxic, Bug
-
HP
: 1,000
(-200 sacc)
-
Armor
: 0
-
Regeneration
: 0
-
Natural Avoid
: Dodge CD5
-
Base Damage
: 140
-
Attack Slots
: 3
|Skills|
Elemental Master
Type
: Elemental Level
Desc
: Master of his craft
Effect
: +1 Elemental level
Uses
: Passive
The Floor is Lava
Type
: A-tier Stage Setting Skill
Desc
: Literally.
Effect
:
Changes the stage panels to Lava Panels for 3 turns
Uses
: x1
Elemental Adaptation
Type
: C+ Advanced Skill
Desc
: An Elemental Master
Effect
:
-- For 1 Turn, User behaves as though they belonged to the Stage's Element
-- This Skill has no effect on User's Attacks
Uses
: [2 Uses] (+1 at v3/5/7/9/etc)
Elemental Attacks
Type
: Advanced Skill
Desc
: A world of possibilities- and you chose to be a smug jerk?
Effect
:
Can change the Element of one attack per turn
Uses
: Passive
Caught in the Spotlight
Type
: C-tier Aiming
Desc
: Parry this you filthy casual!
Effect
:
+1 Omni Aimer on use
Uses
: x4
|Attacks|
Obligatory "Omni" attackR/E
: ?/Light
Desc
: Rays? Got it. Smacking you with a LIGHTsaber? Got that too.
Dmg
: 125
Effects
:
2 Aimers chosen on use
Range chosen on use
C/CD
: -
Sickening RayR/E
: S/Light
Desc
: Not everyone's cut out to be in the Limelight.
Dmg
: 110
Effects
:
Undodgeable
Breaks Shields
Poison
C/CD
: C1
Ray of DistractingR/E
: S/Light
Desc
: A bright, flashy and distracting light to interupt!
Dmg
: 110
Effects
:
Undodgeable
Cuts Auras
Interupt
C/CD
: CD1
Wardrobe MalfunctionR/E
: S/Light
Desc
: Yer fly is down! EVERYONE LOOK AND LAUGH!
Dmg
: 110
Effects
:
Undodgeable
Breaks Shields
Ignores Armor
C/CD
: CD1
Curse Of DyingR/E
: S/Light
Desc
: Free Healthcare? What is this? NOT GIGAMERICA?
Dmg
: 110
Effects
:
Undodgeable
Cuts Auras
LOCKS Regeneration/Healing for battle
C/CD
: 1 full turn charge, 1 use
|Hypers|
Mana ThiefR/E
: S/Light
Desc
: You have been Steifed!
Dmg
: 170
Effects
:
Undodgeable
Cuts Auras
On Hit: +1 Skill use
C/CD
: C1
|Other Stuff|
Special EmulationsSE Optic StrikeRange
: C-atk
Element
: Laser
Description
: Showman's hands emit a faint red glow and he attacks his opponent!
Dmg
(150) + (V*15) Damage
Effects
:
-cannot be Natural avoided
-undodgeable
-cuts auras
-cannot be countered
Uses
x1