Post by kemix on Nov 30, 2017 12:30:37 GMT -8
|Navi & RP Information|
-
Navi Name
: Asymptote.exe
--
Appearance
: His body was lengthed and his form's muscle mass increased considerably, his arms lengthened to around twice what his original length was, and his legs given a large increase in size and moderately in length, making his total height around that of around six feet tall. His head covered by a metalic helmet sporting a division symbol on his forehead as his navi emblem, housing his core data with two crimson and bloodshot eyes. Holes looking almost drilled into his face, two where his nostrils would be, and a good number where his mouth should be, allowing him to speak, however little it is used. His body turned into an amalgamation of it's orginal self, bulged out muscles and pale flesh ripping through the chest of his original navi suit, black metal looking almost welded to his body. His form far more muscular and powerful compared to his original form, as the green and white tatters of his original navi-suit hanging down and concealing his lower body, practically moving along with him to keep the newly recreated navi have a semblance of decency.
--
Personality
:
A quick thinker, despite how his body had changed, he however does not speak. At least, not nearly as much as he used to. Thanks to the modifications on his body, his voice has become deep and very gravely, almost painful to speak as an intellectual. Despite the monster-like appearance, his heart has been left mostly intact, possessing a kind demeanor that wishes to be left alone until his "problem" has been fixed. Unfortunately for him, however, he has been left with a thirst for combat. If a virus is in the area of him, his mind throbs painfully, encouraging him to seek out and delete whatever virus might be in his area of "sense". After combat, win or lose, his core is given some sort of internal injection that soothes the beast within, snapping Asymptote back to his old self and with it, any worries or regrets he might have afterwords. In combat he becomes a raging beast, one that will charge head long into battle and fight as fiercely as possible. The only tether on him however, is his netop, so long as he is in combat mode, the only thing Asymptote will listen to is Joseph.
--
Background
:
The navi before you was once a simple normal navi, one owned by Joseph Sine, a math teacher of ACDC Intermediate school. But due to increasing pressure by his boss, he was eventually given two choices. Upgrade his navi into a customized navi, or to step down from his position at ACDC Intermediate and look for another job. Unfortunately for the two, they had chosen to go with the upgrade, due to their connection to their students and not wishing to go looking for another job.
Asymptote was taken from Joseph swiftly after their decision and with it, Asymptote was...mutated, ripped apart and experimented upon for multiple hours. His body reshaped and twisted into a one belonging to a B-Movie horror monster, and with it, any hope of ever going back from it. His data warped in many ways, most importantly though, his body was unable to be changed back. Even temporarily. His core unstable and holding together barely as is, three options presented themselves to Joseph and his navi. Perma-Deletion, to "exist" as his current self...or to find who did this and to -make- them undo whatever they had done to him.
|Netop|
-
Operator Name
: Joseph Sine
--
Appearance
[/b]: Joseph himself is a generally uninteresting individual, his body resting at around 5'2, 170 pounds and pasty white skin, Joseph is one of your typical looking teachers with little muscle mass showing upon his form. Messy light-brown hair that hangs just a little bit over his blue eyes, thick glasses adorning his face that tightly hang upon his nose, with the occasional slip from his face. His general wear consists of a brown business suit, a tie and various undergarments underneath as well as an undershirt with various implements on his person to go along with him.
--
Personality
[/b]: Quiet and reserved, Joseph is generally the type of person to blend into the background and be ignored as just "another face in the crowd" much like most people like him would, though he does have a bit of book-smarts to himself, math being a subject he taught in school not long ago, till he quit. He however gets -very- upset when he is trampled upon by others, one way or another, so much so he's willing to lash out and fight despite his lack of muscle mass and strength. He also holds very high beliefs in certain things, might wind up becoming preachy, if not flat out antagonistic against another's thoughts and beliefs, but he does have -some- ability to hold back, even if passionate about certain subjects.
--Age[/b]: 39
-
Version / Experience
:
--
Version
: 5
--
Experience
: 1200 (Updated on a per version basis, see signature for specific amount)
--Achievement Level: 6 (Magnet Silver, Snake Bronze)
-
Funds
:
--
Zenny
: See Signature
--
Bugfrags
: See Signature
---------------------------------------------------------------------------------
|Equipment|
Accessory Slots:
2
Crest Slots:
2
Accessories:
6
[E]
:Ruby Cross of the Flame (+60 Attack, +1 AS on starting turn)
[E]
:
Onyx cross of Strength
: Reduce damage to 1 attack by 50% of total damage once per turn
Ring of the Dark Adviser
A ring with strange powers, said to increase the user's speed and offensive powers....
° User has +2 Attack Slots
° Glitch: User deals -50 Damage with all attacks
° After using 5 Dark Chips in battle, the Glitch is removed for the rest of that battle
Topaz Shard: +2% regen of Max HP
Glass Cross of Glass: -10 Attack
Ruby Shard: +20 Attack
Asymptote's Navi Mark
: +200 HP
Crests:
1
S.I.M.O.N's Challenge
SIMON's crest of thanks for those who aided him in his endless search for data
Enables the following skill:
Data Prediction
On use of this skill, the user must call out the name of a normal attack that the opponent has used at some point the battle. If the opponent uses the called out attack on the following turn, the user is allowed to use it exactly as it is shown in the opponent's stats for the following 5 turns.
This effect may be used once every 2 turns until successful, at which time it may not be used again until the mimicked attack has been lost.
This skill cannot be used on attacks that are enabled via skills, and may or may not work in NPC battles.
---------------------------------------------------------------------------------
|Navi Customizer|
Program Slots:
1/4
Defensive Programs Installed: UndershirtE
Undershirt
Activated Program
User survives a fatal turn of damage with 1 HP
Uses per battle: 1/1
Offensive Programs Installed:
[N/A]
Supportive Programs Installed:
[N/A]
Regenerative Programs Installed:
[N/A]
------------------------------------------------------------------------------
|Giga Program|
|Dark Mind|
Corrupted temptations lead to impossible power. A parasite's will to live.
After Darksoul is exhausted, it may be used again after a 1 turn Cooldown. Each time thereafter it is used this battle, its cooldown for reuse increases by 1 turn.
Expansion: Harder, Better, Faster: +100 Armor, +1 Attack Slot
-----------------------------------------------------------------------------
|Statistical Information|
-
Type
: Normal Type
° Reduces penalties for conversions by 50%
° 1 Elemental Level
° -1 CD to 1 Attack (+1 more at Versions 4, 7, 13, 19)
° +2% Regen of HP per turn (+2% more at versions 4, 7, 13, 19)
-
Karma
:
Chaotic Good
Dark (v1 Dark Soul)
-
Elements
: Stone v2, Wood v4 (6 Elemental Levels)
+160 Regen
+400 HP
+5% DR on all attacks
Active Elemental abilitites: Can gain +30% DR on a turn of attacks (5CD)
--
Net Strengths
: Wind, Elec, Toxic, Blade, Stone, Shadow, Sonic, Light, Wood
--
Net Weaknesses
: Sand, Wood, Break, Bug, Ice, Blade, Metal, Fire
-
HP
: 2500
(+400 Stone v2, +500 for Passives, +400 for Version, +200 for Navi Mark)
-
Armor
: 100+5% Damage Reduction (Stone)
-
Regeneration
: 385 (+160 Wood v4, 125 Passive, +100 for Type)
-
Natural Avoid
: Barrier // 5 Turn CD
-
Base Damage
: 200
(+40 for versions, +60 with Ruby Cross)
-
Attack Slots
: 3+1 (+1 for versions, +1 on turn 1, +1 with Giga Program)
|Skills: 5|
Elemental Enhancement
Passive
By way of his intelligence and methods of teaching, Asymptote communes more readily with the elements around him, giving him extra elemental levels as he grows stronger.
+2 Elemental Level (+1 more at Versions 5, 9, 13 and 17)
Agility Burst
Active, C-Rank
Using his legs to push off the ground at superhuman strengths, this allows Asymptote to avoid one attack directed at him a limited number of times per battle.
Active
Dodge 1
Five uses per battle
Intoxicating Adrenaline
Passive, C-rank
Asymptote's body bolsters it's self even more than before, adding extra HP to his reserves
+100(xVersion) (500) Max HP
Monster's Regeneration
Passive, S-rank
Every supportive phase that goes by, Asymptote's unnatural physiology sends bursts of adrenaline through him, giving him a small amount of Regeneration based on his max HP.
5% of max HP (125) regeneration per supportive phase
Metallic Defense
Active, C-rank
Creating a sheet of metal from his arms in the shape of a shield, Asymptote can block an attack without damage.
Shield 1
Five uses per battle
Monsterous Resolve
Passive, Advanced
Every time Asymptote takes HP damage on his defensive phase, he gains either half of a charge or half of a turn of cooldown (To be chosen
on his end phase of his turn before the opponent's
), for every charge or cooldown he gains for face tanking attacks, he chooses on his
supportive
phase to allocate to attacks. Cooldowns or Charges cannot be held from turn to turn and -must- be used on the turn they are acquired. Any half charges/cooldowns are discarded after the defensive phase. Asymptote can not make any skills that grant passive CD or auto-charges.
|Attacks: 10|
Roundhouse Slam
C-Range, Wood
Asymptote rushes at his enemy with both fists being swung at them, the first fakes the opponent out as the second attempts to smash into their body.
90% damage (180)
Undodgeable, Breaks Shields
Monster's Body Check
C-Range, Wood
Asymptote's body charges up the energy around him, before launching off at an enemy with the entire force of his body.
40% Damage (80)
can be optionally charged for 5 turns, Ignores Armor, Undodgable
1 Turn Cooldown
My Rage
S-Range, Stone
Tapping into his rage, Asymptote attacks with a ball of energy that deals damage.
90% Damage (180)
Cuts Auras, Undodgable
Dark-Fire Tackle
C-Range, Dark or Fire
Asymptote charges up a ball of energy bathed in dark energy or a raging inferno and then absorbs it into himself. Afterwards, he launches off at an enemy in a darkness/fire fueled tackle that damages himself along with the enemy.
70% damage (140)
Undodgable, Cuts Auras, On Hit: Deal damage equal to HP sacrificed (rounded up) to opponent, Regardless: Asymptote loses 10% current HP (rounded up) upon use, can not be used if HP is not 300 or higher. Dual Elemental, Cannot be Intercepted
2 Required charges, 1 Turn Cooldown
Healing Needle Shot
S-Range, Wood
Asymptote takes a giant razor sharp needle out of the ground and throws it at the enemy like a spear. If the attack hits, his HP is recovered.
70% (140)
Cuts auras, Undodgable, If hits: Recover 200 HP
1 Turn Cooldown (-1 CD)
Draining Punch
C-Range, Wood
Creating a bunch of spikes on his fists, Asymptote strikes his foe and upon a hit, recovers a small amount of HP from the wounds he creates.
70% (140)
Undodgable, Breaks Shields, If Hits: Recover 200 HP
1 Turns Cooldown (-1 CD)
Thicker Skin
Stone
Asymptote grows disgusting and pulsating blisters, boils, etc that harden his skin against attacks and soften the blows of his opponent's strikes.
40% (40)
Regardless: Asymptote gains 100 armor for 5 turns.
3 Required Charges, 4 Turns Cooldown
Divide by Zero
Wood
By breaking the one rule of mathematics that all mathmatical academics follow, Asymptote's body grows even more bulky allowing him to add his base damage to other attacks
0%
Add 100% base damage to Three attacks
3 Required Charges
Blinding Huricane Fists
C-range, Stone
Swinging with all his strength, sand is sent flying into his opponent's eyes or otherwise blinds them to a point.
80% (160)
Breaks Shields, Cuts Auras, On Hit: Blind
1 Turn Cooldown
Smash and Run
C-Range, Stone
Smashing into the opponent with spiked shoulders, the opponent's HP is cut by a small percentage of their current HP.
0%
Cuts Auras, Undodgable, On Hit: Deal 16% (80% of converted damage) of opponent's Current HP in damage
1 turn Cooldown
Hyper Skills: Dark Soul
° Automatically activates when the user would reach 0 HP
° Navi endures a fatal turn of attacks with 1 HP
° Navi is invincible except against Aimed Attacks
° Navi has +1 Attack Slot for the duration
° Lasts for 2 Turns
|Chip Folder|
Total Chips Usable per Battle:
5
Mega Chips Usable per Battle:
3
Giga Chips Usable per Battle:
1
Standard Chips:
9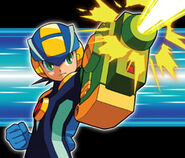 Cannon (upgrades: 0)
100(+10xVersion)
(130)
Normal S-Damage
° If no other attack was used this turn, this chip deals x3
(330)
Damage
° Ignores Armor
Sword (Upgrades: 0)
100(+10xVersion)
(130)
Blade C-Damage
° This chip can be re-used any number of times until the end of the turn
° Each subsequent use still costs an Attack Slot, but does not deduct from the user's total number of Chip Uses per battle
° Breaks Auras

Sonicwave (Upgrades: 1)
100(+10xVersion)(+30)
(160)
Normal S-Damage
° Penetrates 30(+40) Armor
° Undodgeable
° When upgraded, this chip penetrates 40 more armor in addition to the standard upgrade damage boost
° Cannot be used on Broken Panels.

Roll Arrow+
[Upgrades: 1]
100(+10xVersion)(+30)
(160)
Normal S-Damage
° Undodgable
° If Hits, victim loses 1 Chip Use for the rest of battle

Hard Body
[Upgrades: 0]
No Damage || Does not Cost an Attack Slot to use
° User gains +30 Armor for 1 Turn
° User must sacrifice 1 Skill Use to activate this Chip
° Increased by +10 Armor per Upgrade

Boomerang
[Upgrades: 0]
100(+10xVersion)
(130)
Wood S-Damage
°Cuts Auras
° If Avoided, this chip auto-strikes again next turn with the same damage and effects
° If used on Elec-Element Panels, reverts them to Normal Panels upon use
Yoyo 3
(Upgrades: 2)
100(+10xVersion)(+60)
(190)
Blade S-Damage
° Hits an additional time at full damage per C-Attack the target used last turn, to a Max of 3 Hits
° Hits one less time per S-Attack the target used last turn, to a Minimum of 0 Hits
° This Chip does not have nor can it gain "Avoid Separately"
° Cuts Auras

Drain
(Upgrades: 0)
100(+10xVersion)
(130)
Toxic S-Damage
° If Hits, user restores 50 HP
° Can be upgraded to increase restoration effect by 50 HP per upgrade
° Undodgeable

Boomerang 3
(Upgrades: 2)
100(+10xVersion)(+60)
(190)
Wood S-Damage
° If Avoided, this chip auto-strikes again next turn with the same damage and effects
° If used on Elec-Element Panels, reverts them to Normal Panels upon use
° Cuts Auras
Mega Chips:
6
Prism
° Creates a Prism (Non-HP, Non-Intercepting Object) on the enemy's side of the field that lasts for 1 Turn
° Any damage dealt to the Prism is duplicated and redirected (as a single separate attack) to all entities on the side of the field that it belongs to
° Attacks marked "Destroys Objects" ignore Prism's effect and simply remove it from the field instead
° Enemies may intercept for the Prism, if able to
Poltergeist
° Destroys all Objects and Clones on the field, including User's and Allies'
° Each removed Object or Clone deals 100 Unaimed Normal S-Damage to its owner

Jealousy
# Normal S-Damage
° This cheap deals half of the User's Base Mega Chip Damage, but unavoidably hits its target once for every Chip Use they've spent this battle
Poison Claw
C-Range Toxic
Special Emulation- Thorn
Cuts Aura, Undodgeable, Inflicts Poison on each hit. Avoid separately. Hits 3 times
(150+15V) Two Turn Charge
Soul Shatter
S-Range Elec
Special Emulation- Nightshade.
If avoided, autostrikes next turn at 50% damage and full effects. Regardless of success, Asymptote gains 50 damage to all attacks for 1 turn. Cuts Darksoul.
(150+15*Version) Two turns required charge.
Finisher
C-Seeking
Special Emulation- K907
Avoid Separately, Cuts Undershirt. Hits two times.
(150+15V) One turn charge.
Giga Chips:
0
[N/A][/font]